Miniature Solenoid Valve 2/2 Way

Shako PU220AR-01-02-03
1/8, 1/4 or 3/8" BSP or NPT thread
NBR seals,optional Viton or EPDM sealing.
2/2 way normally closed quick response.
Pressure AC 0 to 20 bar / DC 0 to 13 bar depending on orifice, pressure tested to 30 bar.
Direct acting 1/8, 1/4 and assisted lift 3/8".
Compact miniature 2 way solenoid valve.
Most voltages available.
Temperature media -10C to +90C, ambient -10C to +60C.
Coil class F, DIN43650B or flying lead wire 100% duty rated, option ATEX EExmIIT4 coil.
Brass body with stainless steel internals extend valve valve.
NBR seals suited for air, water, neutral gases and mineral oils - Viton seals fuel oil, gasoline, hi-test gasoline, diesel fuel - EPDM hot water and liquid detergents.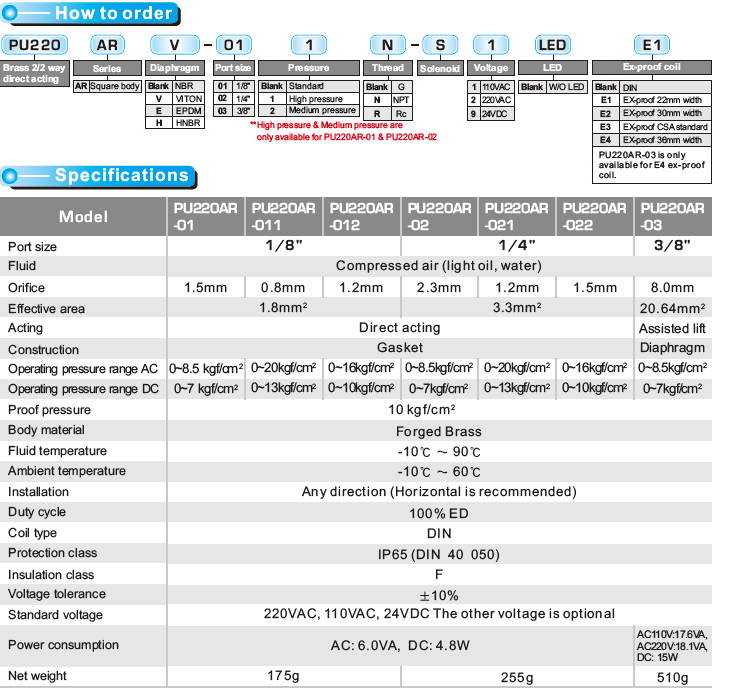 Shako 2/2 Solenoid Valve PU220AR
Brand: Shako
Product Code: PU220AR
Availability: In Stock
---
Available Options
Please Check Shako Data Sheet Tab for options
Related Products
Tags: Solenoid Valve, 2/2 Way, Miniature, zero rated, brass, normally closed