Solenoid connector 22mm
Shako 40-17-06
Black and grey PA + 30% glass fibre DIN43650 industrial form.
Width 22mm, Spacing between Pins 11mm
Conduit PG9 6-8mm option 1/2" NPTF
Voltage 0 to 250Volts, 10 Amps Maximum
Wire size 1.5mm Maximum
IP65 according to C-VDE0110.
Temperature range ambient -40C to +120C.
Option with LED light.
Fits Shako solenoid valves BM520, PU520, PS520, PU320, PU322, CY520, SPU520, PU220-AR-01/02 series.
CN2211S9BSG no circuit PG9 conduit entry, CN2211S9BGG 1/2" NPT conduit entry, CN2211S9ASG AC LED, CN2211S9DSG DC LED, 880522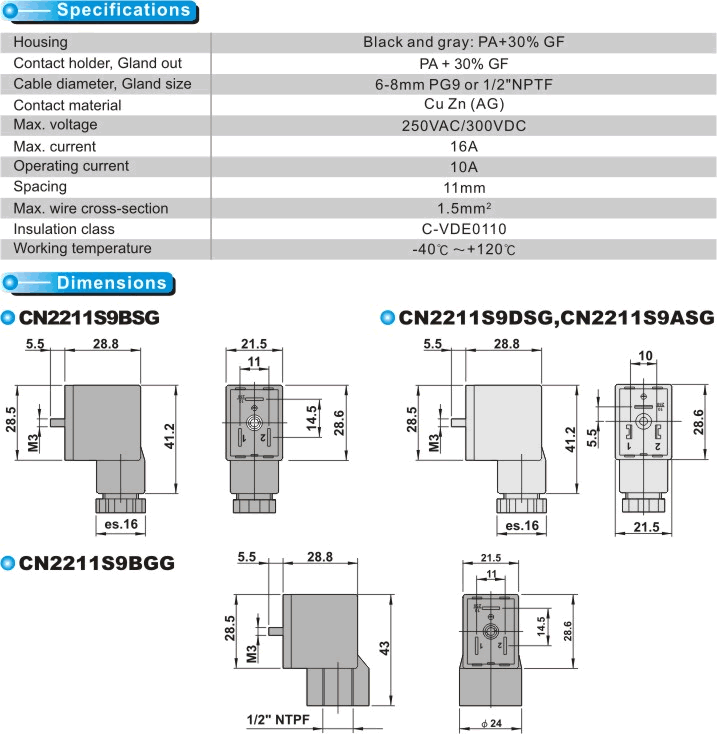 Shako Solenoid Connector 40-17-06
Brand: Shako
Product Code: 40-17-06
Availability: In Stock
---
Available Options
Please Check Shako Data Sheet Tab for options
Related Products
Tags: Shako solenoid coil, connector