Solenoid coil 13/30
Shako 40-17-03

High temperature resistant thermoplastic PA / PPS.

Width 30mm, bore 13mm.
Rated power 15 Watts 17VA.

IP65 according to EN60529 CE Class H 100% duty rated DIN43650A ISO4400 solenoid coil.

Standard voltages 12vAC, 12vdc, 24vdc, 24vAC, 48vDC, 48vAC, 110vDC, 110vAC, 220vDC, 230vAC, 380vAC other voltages available upon request

Fits Shako solenoid valves PU220, PU220AR-03, PU225, AM325, SPU225, PU225H, PU225X and PU225S steam valve.

Available voltages include, 220vAC SA21330DXSN, 110vAC SA11330DXSN, 24vDC SD91330DQSN, 48vAC SA41330DXSN, 24vAC SA91330DXNN, 12vDC SD71330DQNN, 12vAC SA71330DXSN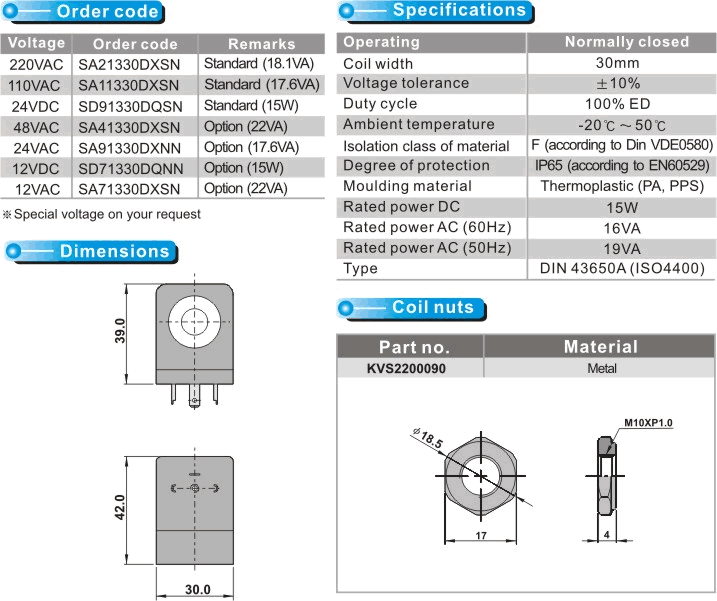 Shako Solenoid Coil 40-17-03
Brand: Shako
Product Code: 40-17-03
Availability: In Stock
---
Available Options
Please Check Shako Data Sheet Tab for options
Related Products
Tags: Shako solenoid coil