High Pressure Solenoid Valve 2/2 Way

Shako PU225H(N)-03-04-06-08
Port thread 3/8, 1/2, 3/4 or 1" BSP, NPT or flange (F) JIS10K, (F3) ANSI150Lb, (F4) PN16.
PU225H 2/2 way normally closed, PU225HN 2/2 way normally open.
Pressure 0.5 to 25 bar, test pressure 30 bar.
Sealing standard Viton, optional EPDM or NBR.
Pilot acting for low starting pressure.
Large flow rate and high working pressure.
Quick response.
Stainless steel stem provides exceptional durability.
Timer for setting on/off time as optional accessory
Sealing: NBR for air, water, gas and mineral oils, Viton for fuel oil, gasoline, diesel fuel or EPDM for hot water and detergents.
Temperature media -10C to +90C Maximum, ambient -10C to +60C.
Coil Class H DIN43650A 100% duty rated, most voltages available, optional ATEX Explosion proof coil EEx m II T4 coil.
Suitable media NBR air, water, gases or mineral oils (under 50 CST) - Viton Fuel oils, gasoline, hi-test gasoline, diesel fuels - EPDM hot water, liquid detergents.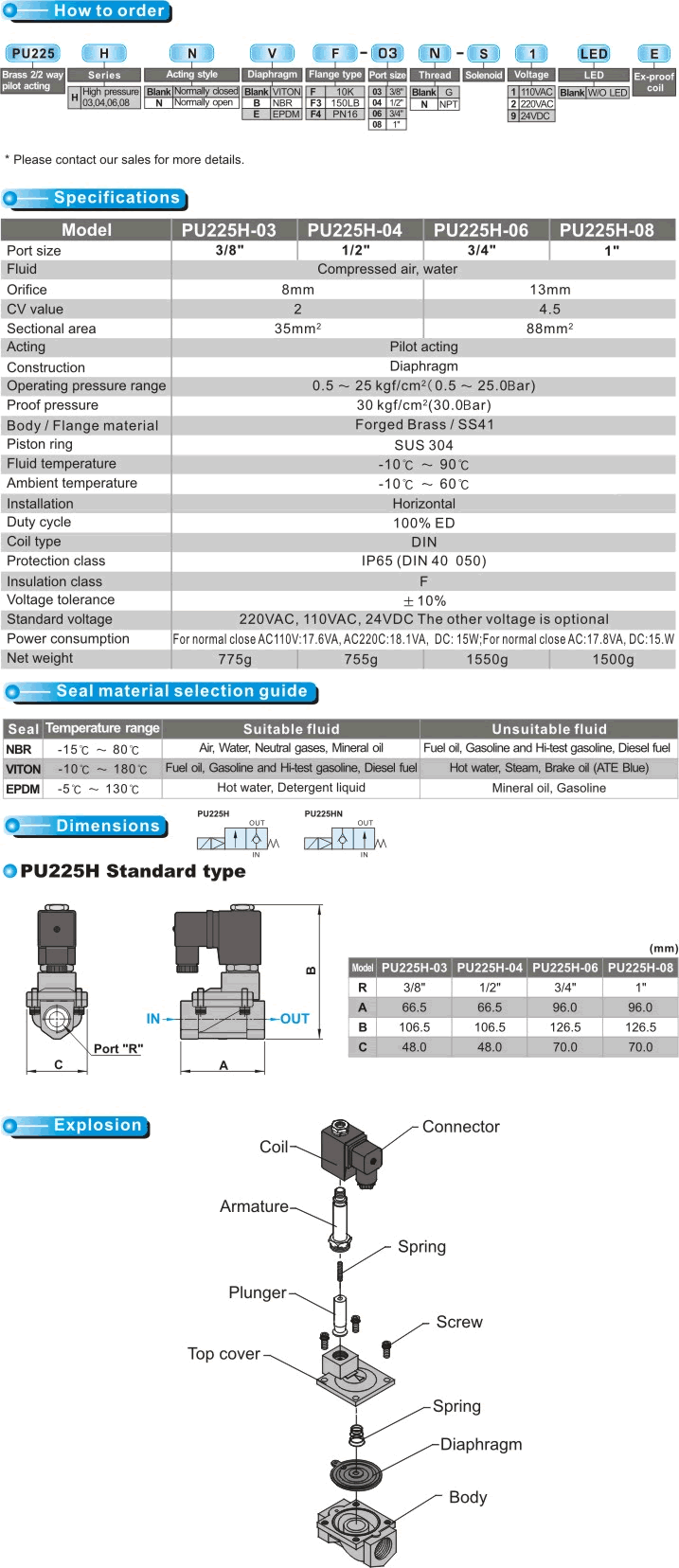 Shako 2/2 Solenoid Valve High Pressure PU225H
Brand: Shako
Product Code: PU225H
Availability: In Stock
---
Available Options
Please Check Shako Data Sheet Tab for options
Related Products
Tags: Solenoid Valve, 2/2 Way, High Pressure, Pilot Acting