Filter/Regulator Coalescing Carbon Filter Set
Shako UFR-UMFB-UMFKB-02-03-04
Port 1/4, 3/8 or 1/2" BSP, NPT or Rc thread.
Pressure 0.5 to 10 bar, tested to 15 bar air.
UMF air filter set with flow quality indicator, prevent the filter element from clogging.
3 set combination ready assembled including Air Filter/ pressure regulator 5μm filter + gauge, coalescing filter 0.01μm , activated charcoal filter with semi automatic drain + mounting brackets.
5μ micron pre filter removes most particles (0.01mm+) and 90% of any moisture, 0.01μ micron RED coalescing filter removes any remaining oil vapour and particles larger than 0.00001mm and finally activated charcoal filter removes any biological particles or faint odours giving technically absolutely clean air.
Drain semi automatic standard optional manual drain.
Bowl standard polycarbonate with option for aluminium or acid / alkali resistant bowls for paint spray booth.
Temperature range 0C to +60C.
ZH04H replacement 0.01μm Coalescing filter element (RED).
ZH04HCA replacement Activated Carbon filter element (GREEN).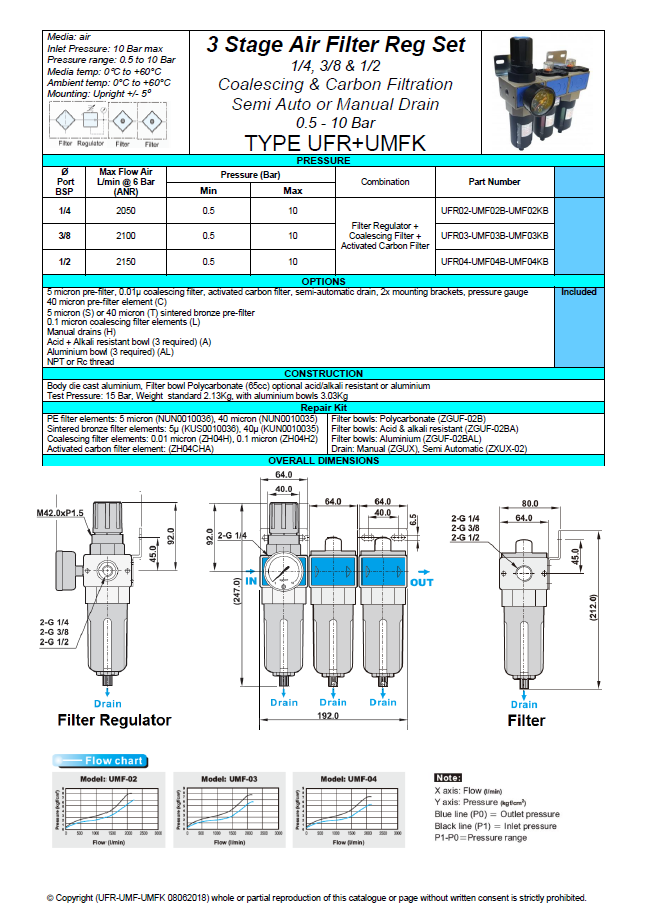 Shako 3 Stage Filter/Regulator coalescing carbon Air Set
Brand: Shako
Product Code: UFR-UMFB-UMFKB
Availability: In Stock
---
Available Options
Please Check Shako Data Sheet Tab for options
Related Products
Tags: Filter, coalescing filter