ATEX Solenoid Coil
Shako 40-17-05
ATEX EEx m II T4 certified solenoid coils system 8/22, 8/30 and CSA Approved 8/36 GAS Ex II 2 G Ex mb IIC T4 and DUST Ex mb T4 IIIC T130C, hazardous area zones 21 and 22 .
Width 22mm, 30mm or 36mm, bore 8mm thermoplastic
Rated power 4.5~5.2 Watts 4.4~6.5VA depending on voltage and selected coil.
Protected by encapsulation certificates

PTB 00 ATEX 2001X, PTB 03.ATEX 2018x, IECEx PTB04, 002X.

IP65 according to EN60529, Class F to DIN VDE 0580
Cable length system 8/22 and 8/30 3 meters, system 8/36 CSA 1/2" NPTF conduit entry.
Fits Shako solenoid valves BM520, PU520, PS520, PU320, PU322, CY520, CY525, SPU520, PU220AR-01/02 series.

EX-Proof Coil CSA T4 width 36mm 220vAC SA20836GTCN, 110vAC SA10836GTCN, 24vDC SD90836JTCN
EX-Proof Coil EExmIIT4 width 22mm 220vAC SA20822ET4N, 110vAC SA10822ET4N, 24vDC SD90822KT4N, 24vAC SA90822ET4N
EX-Proof Coil EExmIIT4 width 30mm 220vAC SA20830DT4N, SA10830DT4N, SD90830KT4N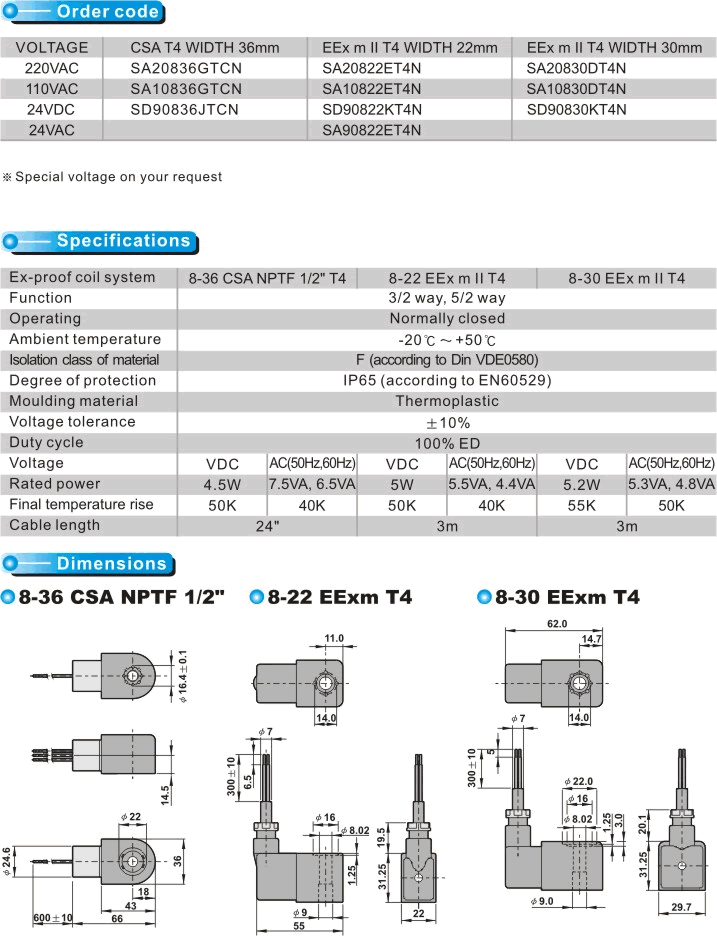 Shako Solenoid Coil 40-17-05 ATEX
Brand: Shako
Product Code: 40-17-05
Availability: In Stock
---
Available Options
Please Check Shako Data Sheet Tab for options
Related Products
Tags: Shako solenoid coil