Solenoid coil 5/16
Shako 40-17-02

High temperature resistant thermoplastic contains 30% PC.
Width 16mm, bore 5mm.

Built-in magnetic yoke made by low carbon magnet.
Rated power 2.5 watts 4.0VA
Fits Shako valves AM520, SM520
IP65 according to EN60529 Class F VDE0580 100% duty rated flying lead wire or option DIN43650 solenoid coil.
Temperature ambient -20C to +50C.

Available voltages include, 220vAC SA20716FCXA lead wire 3.6VA, 220vAC SA20716DCXA DIN 3.6VA, 110vAC SA10716FCXA lead wire 3.6VA, 110vAC SA7016DCXA DIN 3.6VA, 24vAC SA90716FEXA lead wire 3.6VA, 24vAC SA90716DCXA DIN 3.6VA, 24vDC SD90716FEXA lead wire 2.5Watts, 24vDC SD90716DEXA DIN 2.5Watts, 12vDC SD70716FEXA lead wire 2.5 watts, 12vDC SD70716DEXA DIN 2.5 watts.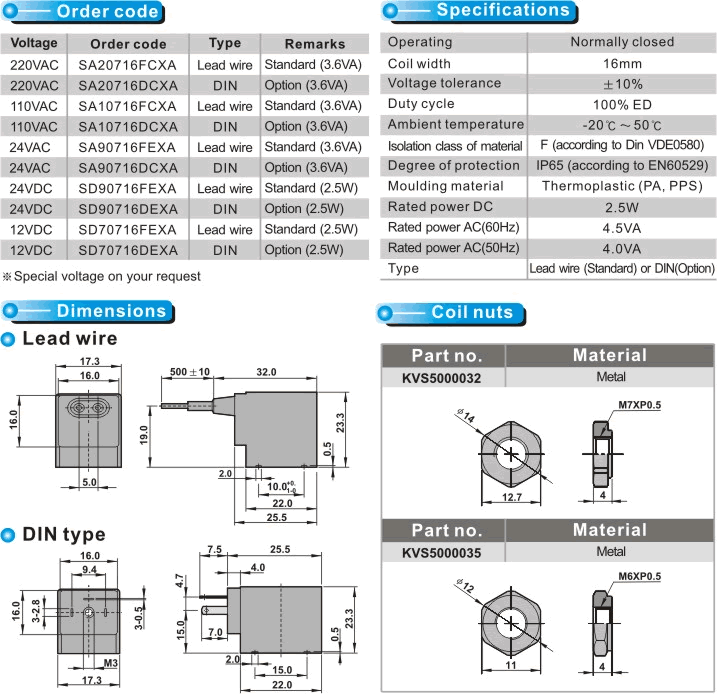 Shako Solenoid Coil 40-17-02
Brand: Shako
Product Code: 40-17-02
Availability: In Stock
---
Available Options
Please Check Shako Data Sheet Tab for options
Related Products
Tags: Shako solenoid coil