Solenoid Valve Direct 3/2 Way

Shako PU320-01-02-S PU320N-01-02-S

3/2 way miniature solenoid valve, can be stacked into manifold system.
Port sizes 1/8 or 1/4" BSP or NPT thread.
Pressure 0 to 8 bar, 10 bar maximum.
PU320 3/2 way normally closed (inlet at base), PU320N 3/2 way normally open (inlet through top)
To stack the valve, assembly kit is necessary, kit includes O-ring x 1, bolt x 2, screw x 2, nut x 2 (included for quantities 2+ valves) included if 2 or more valve ordered.
Most voltages available, all coils IP65 100% duty rated, optional ATEX EExmIT4 for zone 21 and 22 use.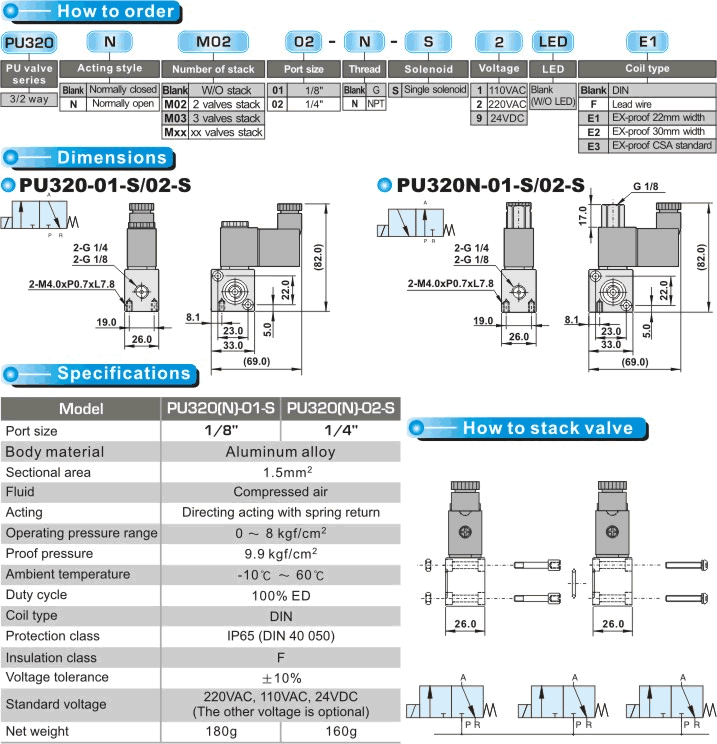 Shako 3/2 Solenoid Valve PU320(N)
Brand: Shako
Product Code: PU320 PU320N
Availability: In Stock
---
Available Options
Please Check Shako Data Sheet Tab for options
Related Products
Tags: 3/2 Way, Solenoid Valve, Direct Acting, sub base mounted, Miniature